Gift Cards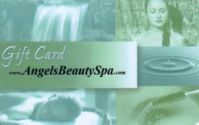 Angels Beauty Spa Gift Card
Fresh Beautiful New
Everyone loves a fresh, new look.
Surprise someone special with a makeover – it's easy with the Angels Beauty Spa gift card!
Everyone can find a look they'll love this season.
Simply choose a gift card in any amount from $10 – $500. Have it sent to your friends or family.
Just stop in, user our contact form or call us (518) 373-0040 to get started.